In September I was asked by Kaiser Permanente to create a replica of their new hospital being built here in San Diego. Now as the building is still not built, all they had to give me was rendered images of what it will eventually look like.
This is not the first time I've built a hospital, in 2010 I built a replica of the Critical Care Unit for Scripps Encinitas Hospital also from rendered images, although I was also able to get the blueprints in that case. In fact it is still on display in their lobby to this day.
The tricky thing with this model was that they wanted it fast — in two weeks fast. Now generally I don't take on a commission when there is that tight of a deadline, but as they only wanted the model to be 2 feet long, and I had the parts needed on hand, I was able to say yes.
Most of the building was a standard multi-level building, mostly square with lots of windows. Except for one thing — the corner of the building. It was a wavy curve. Aesthetically pleasing but not all that easy to replicate in LEGO.
It took me a little bit of time to figure out exactly how I was going to do it. At first I tried hinges, but the curve wasn't coming out right, so I had to try a different tactic.
Now like I said, it was lucky that I had enough of all the parts on hand, I didn't really have time to order the 2000 1×2 trans light blue tiles that I ended up using on this model.
And to ensure that the curvy wall was securely attached, I did some serious S.N.O.T. (Studs not on top).

Another small detail that I wanted to look its best was the windows with the trans blue stripes on the left hand side of the back of the model

I built the windows like this so that they would look clear through, and also attach to the rows above and below them.

As they wanted some landscaping to complete the model, I created some mini trees


They are mostly made with 2×2 round green plates and 1×1 brown cones. It was a fun little challenge to come up with these and create several different versions.
I'm pretty happy with the end result over all. 😀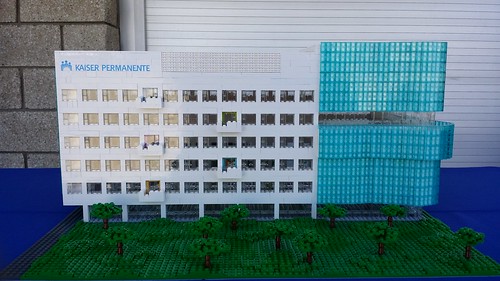 The model took about 60 hours overall. Its 2 feet long, 9 inches wide and about a foot tall.